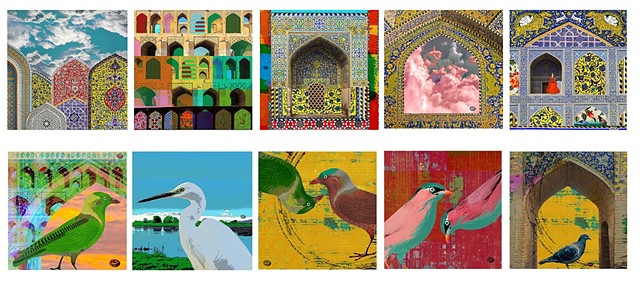 Timeless Themes of the Persian Perspective
Statement:
Persia (Iran), is an extraordinary land that evokes different feelings when mentioned: different for those who focus on its politics, and different for those who focus on its art, history, and culture.
My work celebrates a side of Iran that focuses on its distinctive art and imagery from the past and present, My goal has always been to explore, present and showcase the scope and range of Persian art while transcending the constraints of ideological and cultural borders.
The 30 Bird Project (My recent project):
Inspired by Sufi mysticism and Persian mythology, this newest art series is a tribute to my culture. (Scroll down for the backstory.)
Composed of digital artworks printed on metal, The 30 Bird Project is now available for the exhibit!
https://www.youtube.com/channel/UC8psowh8pO_8EcxA_dOC6Gg
www.instagram.com/shivasartsalon/
https://www.facebook.com/shiva.pakdel.71/